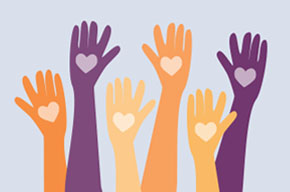 Families from different cultural groups can face barriers to enrollment in Medicaid and the Children's Health Insurance Program (CHIP), including language, low literacy, and limited access to enrollment assistance. Hispanic and American Indian and Alaska Native (AI/AN) children are at least twice as likely to remain uninsured compared to white children. Additionally, they make up two-thirds of the remaining uninsured children eligible for Medicaid or CHIP. Getting ethnically diverse families the important coverage they need, including those in non-English speaking households, will improve their access to affordable, quality care and their overall health.
The Connecting Kids to Coverage National Campaign works closely with partners and community-based organizations who conduct multicultural outreach. Explore the Outreach Tool Library to find a wide range materials, including those we've translated into Arabic, Chinese, Korean, Portuguese, Spanish and more! The Campaign continuously adds new tools to the ever-growing Outreach Tool Library based on feedback and requests from these groups.
Outreach to Immigrant Families
Hispanic Outreach
Use these tools when conducting outreach to the Latino community.
Facebook Images
Twitter Images
Newsletter & Article Templates
Infographics
American Indian/Alaska Native (AI/AN) Outreach
American Indian and Alaska Native Outreach (AI/AN)
CMS' Division of Tribal Affairs (DTA) creates informational materials for the AI/AN community. These materials are available for free on DTA's full catalog of tools including:
Customizable fact sheets on Medicaid and CHIP basics
CHIP materials, including brochures and DVDs
A report discussing barriers to AI/AN access to Medicaid and CHIP, enrollment strategies, tribal-state collaborations, and other best practices