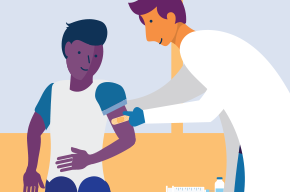 Vaccinations give kids the extra protection they need to stay healthy. With Medicaid and the Children's Health Insurance Program (CHIP), parents can rest easier knowing their kids' vaccinations and booster shots are covered. Use our resources to remind parents and caregivers about this benefit, as well as other preventive and emergency services covered by Medicaid and CHIP. And read our Customization Guide  for instructions on how you can customize palmcards and posters for your organization!
Be sure to check out the Outreach Tool Library for a full view of the variety of other outreach materials available.
Cold & Flu
Kids get sick, but there are ways to protect them from certain illnesses. Our outreach materials can help remind parents that flu vaccines can help keep kids healthy during cold & flu seasons. All of our resources are available in English and Spanish; some materials will be available in additional languages soon. For ideas on how to use these materials in your outreach efforts, check out our flu season partner toolkit .
Digital Videos
Palmcard
Poster
Infographic
Social Media Messages
Facebook/Instagram Image
Twitter Image
Newsletter & Article Template
Text Messages
Email Signature Image
General Vaccines Outreach
Our general vaccines outreach materials can help support your ongoing efforts to remind parents that when you vaccinate kids today, you protect their tomorrow. All of our resources are available in English and Spanish; some materials are available in additional languages.
Digital Videos
Palmcard
Poster
PSA Scripts
Facebook/Instagram
Twitter
Newsletter & Article Template
Email Signature Images